The Science and Democracy Network (SDN) was established in 2002 to enhance the quality and significance of scholarship in science and technology studies (STS) by training young professionals and by forging links between STS and related fields of study and practice.
Learn more about SDN.
15th Annual Meeting to be Held June 23-25, 2016 in London
The 15th Annual Meeting will be held June 23-25, 2016 in London and will be jointly hosted by University College London and the London School of Economics. Call for abstracts will be sent out in early 2016.
14th Annual Meeting Archives Now Available
Program, papers, photos and video of the 14th Annual Science and Democracy Network Annual Meeting, held June 25-27, 2015 in Cambridge, MA are now available here!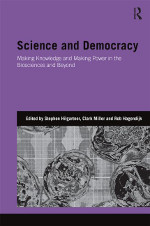 New SDN-Inspired Book Edited by Governing Council Members
Can the partnership between science and democracy survive? For over two centuries, science and democracy have forged a partnership to promote freedom and rationality as the legitimate bases for governing human societies. Today, that partnership is at serious risk, from the radically enhanced power of science to produce and market world-transforming (and human-transforming) knowledge to the growing willingness of political elites to neglect and even undermine the institutional foundations of public knowledge-making. In this book, edited by Stephen Hilgartner, Rob Hagendijk, and Clark Miller, leading scholars from the Science and Democracy Network explore the profound trends that are changing the relationship between two of humanity's most significant institutions in the 21st Century.
Special 20% discount available with code FLR40. Buy the book here.